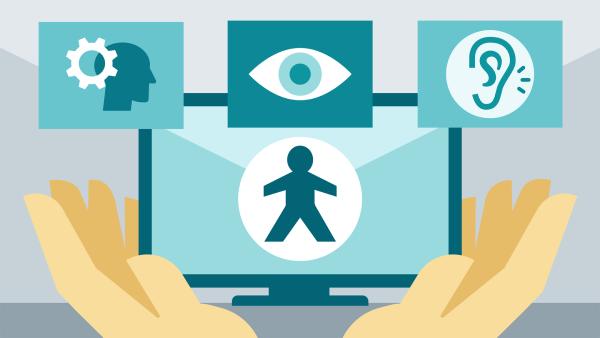 The UWAIX Program
The UCLA Web Accessibility Initiative Extension's (UWAIX) is a year-long extension of the UWAI mission values of digital accessibility and equity for all and includes new, well-informed and optimized objectives:  
Professional Schools and College Division Websites
The UCLA Web Accessibility Initiative Steering Committee has chosen to pursue the HTML remediation of the websites for the UCLA professional schools and college divisions.  They will be prioritized in order of need and resources.
UCLA Branded and Accessible Website Development Resources
The DCP is partnering with StratComm and ITS to create resources to enable campus entities to create on-brand and accessible UCLA-related websites.  More information on this project coming soon!
Vetting Accessible Web Development Vendors with UCLA Purchasing
We will continue our fruitful partnership with UCLA Purchasing and Procurement in improving and maintaining our accessibility vetting process for web vendors and web development contracts on our campus to ensure web compliance inline with the University of California Terms and Conditions of Purchase, articles 6.D and 6.E.
Article 6 Subsection D:  Accessibility Requirements
Supplier warrants that:
It complies with California and federal disabilities laws and regulations; and
The Goods and Services will conform to the accessibility requirements of WCAG 2.0 AA.
Supplier agrees to promptly respond to and resolve any complaint regarding accessibility of its Goods and/or Services
Voluntary Siteimprove Enrollment for all UCLA Websites 
The DCP will continue to facilitate and administrate the voluntary enrollment of campus sites into the system-wide automated accessibility checker, Siteimprove.  We will make ourselves available upon request to help departments interpret the results and develop remediation action plans.
BruinLearn Ally Tool Project
The DCP is excited to expand our resources into supporting accessible developments and designs in the BruinLearn LMS space.  The campus has recently implemented a tool called Ally to gather data around accessibility in the LMS.  After the data gathering stage is complete, the DCP and other stakeholders will develop a project plan for how to improve this environment. Stay tuned!
The UWAIX Program Student Core
The UWAIX Program takes great pride in our efficient, effective, and passionate student core.  Their contributions to our department and community are invaluable.  Our current teams' names and positions are below (alphabetical by last name):
Peter Agban - Lead Accessibility Engineer & PDF Remediation Lead
Arezo Ahmadi - Social Media and Outreach Coordinator
Kate Burcham - Course Reader Liaison
Saige Carter - Products Accessibility Engineer
Melissa Chang - Products Accessibility Tester
Heather Chou - GIS Student Lead & MetaMap GIS Lead
Jacob Linder - Back-End Web Accessibility Engineer
Alyssa Lung - Ally Data Lead
Helio Luti - LMS Accessibility Consultant
Katie Osborn - Accessibility Engineer Training Program (AETP) Lead
Nicholas Shinghal - Front-End Web Accessibility Engineer
Sakeena Siddiq - Video Creation Lead & PDF Accessibility Engineer
Robert Smith - Lead PDF Tester
Alex Velikanov - Back-End Web Accessibility Engineer
The Original UCLA Web Accessibility Initiative (UWAI) Successes
From 2019 to 2022, the original UCLA Web Accessibility Initiative (UWAI) took place. The successes included:
Remediating 37 high-profile UCLA websites to WCAG 2.0
Incorporating accessibility criteria in the UCLA Purchasing and Procurement process through the SNOW Triage (with Security and Privact)
Remediating over 35,000 pages of UCLA documents
Enrolling 300+ websites into Siteimprove (a digital accessibility crawler)
Facilitating a continued training program on digital accessibility basics, digital accessibility testing, HTML accessibility, document remediation, education accessibility, universal design and pedagogy, and disability allyship and culture
For more details, please visit the original UWAI webpage.